Executive Summary Extract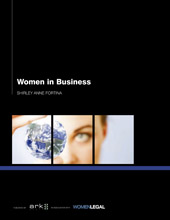 Diversity, and more specifically gender diversity, has direct benefits in a business context. Evidence is mounting to support this statement, and it has been acknowledged by many that women bring a distinct personality and motivational strength to the business environment and to leadership roles.
This report concerns women in business in the broadest sense – whether single or married; with or without children (or those that never plan to have children); in the business world because they want to be in it, or in the business world because they feel they are forced to be in it. If you work and you're a woman – this is for you!
This report does not propose to cover the various topics included from 'cradle to grave'. However, it does pick out the key concepts (which are not new and have been discussed and written about at length by many national and international authors) with a view to bringing together some of the findings, thoughts and views in a format and sequence that I, and I hope you, will find useful.
We will cover a number of topical issues with the intention of providing women with some empowering tools to help them maximise their full potential in the business world and be in a position to answer the questions outlined above. It aims to challenge women to think differently, to inspire them, to stimulate them and, finally, to motivate them to take control.
The report is available from Ark Group.